Meet Dr. Sidney Becker (Retired)
Dentist in Newport News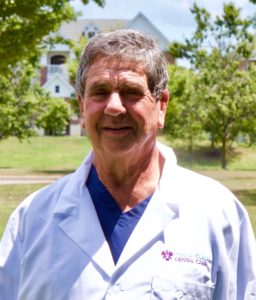 Dr. Sidney Becker was born and raised in Newport News, Virginia. He graduated from the University of Richmond in 1969 with a major in Chemistry and earned his Doctor of Dental Surgery in 1973 from the Medical College of Virginia, now known as Virginia Commonwealth University, in Richmond, Virginia. Dr. Becker served two years as a dentist in the Army at Fort Knox, Kentucky before returning to Newport News where he has practiced dentistry for the past 41 years.
Dr. Becker's true enjoyment of his profession comes from the many long lasting relationships he has maintained over his years of practice. There are many third generation patients in his practice that he tells, "I remember when your mom/dad was your age!" He truly appreciates the loyalty of so many of his patients and takes pride and pleasure in their continued patronage.
Dr. Becker has been a long standing member of the American Dental Society, Virginia Dental Society, and Peninsula Dental Society as well as a member of the Academy of General Dentistry. Dr. Becker prides himself in the many of hours of continuing education he has taken over the years in various fields, from crown and bridge and dentures to root canals to oral surgery to Invisalign. He believes in the importance of continuing education, as you will find him and our team to be up-to-date on the latest in treatment techniques and options. He is also a proud member of the Dawson Academy. His participation in many Missions of Mercy, which provides dental care to those who cannot afford it, is also something Dr. Becker enjoys.
Dr. Becker married his wife Cynthia in 1976 and they have two children. Their daughter, Margaret, is a graduate of the United States Air Force Academy and is a civil engineer with the Navy as well as a Lt Col in the Air Force Reserves. She and her husband, Bryon, have two beautiful children, Beatrice and Max. Dr. Becker's son, Adam, followed in his father's footsteps to become a dentist and is now pursuing a residency in endodontics at Boston University in Massachusetts. In his spare time Dr. Becker enjoys golfing, walking his black lab, Greta, and spending time with his grandchildren.